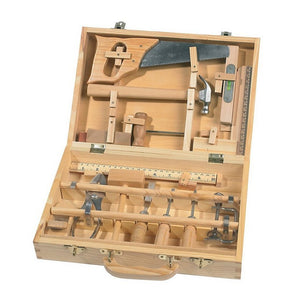 Kids Large Tool Box Set
Regular price $66.00 $66.00 Sale
Kids Large Tool Box Set
Comes equipped with all the tools needed to work alongside a parent or that favorite grandparent that is always fixing something. Made of wood and metal, all tools are made to use on real projects but adapted to small hands. Set includes a hammer, Philips and regular screwdrivers, pliers, T-square, ruler (with metric measurements), c-clamp, sanding block, saw, chisel, and planer. To be used under adult supervision.
Ages 6+.
Toolbox measures 9" x 12" x 3".
The saw will not cut wood or skin but will cut through cardboard.
The tools are real!
Unlimited project possibilities for children while working under adult supervision
My son had to have one of these and he absolutely loves it, he just turned 6 and he had to use the saw and hammer first day!!