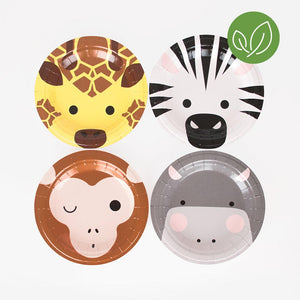 Mini Safari Plates ( 8 ct)
Regular price $4.00 $4.00 Sale
Hippos, zebras, monkeys and giraffes, it's time to get dressed, put on binoculars and go on an adventure! Are you organizing a safari birthday party? Or a party traveling around the world?
Safari crockery should drive the little ones crazy and touch the older ones. The plates can be arranged on the table but also hung on the wall like trophies.
These plates are lovingly designed in France and responsibly made in Europe. These cardboard plates are recyclable.
8 plates (giraffe, zebra, hippopotamus monkey)
Made in europe European FSC paperboard
vegetable inks and lacquers
Dimensions: 18cm/ 7in diameter,